Residential Roofing,
Siding and Gutters

(click pictures to enlarge)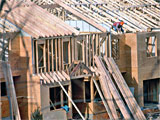 Square 1 is a Williamsburg VA based Roofing contractor that specializes in roofing, not "selling." We are contractors, we do not employ elaborate selling systems or "closes or drops" or money back guarantees held in trust.
We simply listen to your needs, inspect your existing system and provide you with a detailed report of findings with the costs associated with your project. At Square 1 we look beyond the color of the shingles or siding and look at the structure to ensure that not only are you getting a roof or siding that looks as good as it can, but a system that meets and exceeds building codes and expectations, A system that can stand up to the elements and weather the storms.
It's true we are a large volume commercial and industrial General Contractor. We install roofing and siding for the federal government, schools, public buildings and hospitals.
Residentially we employ the same research, design, installation and materials that allow us to meet the needs of those public and private municipalities.
At Square 1 you can be assured you are entering into a relationship with a builder and design professional that has the ability to perform your project in the manner that is appropriate, functional and beautifull.
As a contractor we do not spend time with sales training (As a matter of fact we employ no salesmen) we look at construction as providing the labor and materials to install your system the way it was intended without regard to commission.
Products: At square 1 we have the ability to install virtually any system that will meet your needs as a homeowner. We are a Certainteed Master Shingle applicator, GAF master contractor, Metallic building contractor, Gen Flex applicator and IB Roof systems installer. We are certified to install Englert roof systems.
We use only the finest products and employ the finest roof systems from standing seam metal roofing to slate, tile, PVC, EPDM TPO and shingles.
Warranties: All manufacturers warranties will be in effect upon completion of your system and all craftsmanship warranties provided by square 1 will come with a lifetime warranty.
Square 1 is a member of the Virginia Claims pages and has many years experience working hand in hand with insurance adjusters and homeowners throughout the nation helping ensure that the claims process meets the needs of both the insurance company and the insured. Having traveled nationally for 10 years from hail storms, hurricanes and tornadoes we have settled locally in the Hampton roads area but still maintain a national presence with our extensive relationships with national general contractors, laborers and community leaders. Square 1 completes all work in accordance with insurance company pricing and scope. As a preferred vendor square 1 not only assists with the installation of construction projects but, also assists with such items as negotiations, pricing, ladder assists, estimating, project management, consulting and umpiring. Nationally we have managed and assisted with insurance projects in the 10s of Millions of dollars.
We do not give you a sales pitch. Ever. We show you what it will cost to do your job the correct way by professional contractors.